Reduce PDF Size a free PDF document compression software, it can quickly compress PDF documents and reduce PDF files size, it supports five different compression settings, you can choose different compression ratio according your own requirements. In addition, this software also supports batch conversion, enables you to compress many PDF files one time.
Freeware, free to use.

(Get it from a download mirror)
The software usage is very simple, just two steps:
Step 1: select menu "File" -> "Add PDF Files" to add your PDF files;
Step 2: select menu "File" -> "Reduce PDF File Size" to specify an output folder, then the compression process will start, that is all;
Please Note: the compressed PDF files will be saved in output folder, the source PDF files will not be modified.
Software supports the following PDF compression settings:
Screen-view-only Quality
Low Quality (eBook)
High Quality (Printer)
High Quality (Prepress)
Default Quality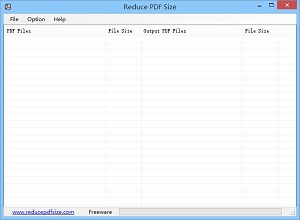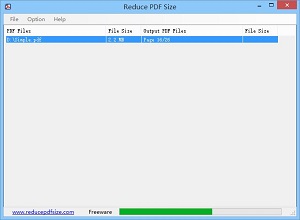 The software interface is simple, the middle part is a PDF file list, this file list will show all source files and output files (includes each PDF filename and file size), a progress bar at bottom will show progress of each PDF file conversion.
Why you need this software? for many users, "how to reduce PDF file size" is a problem that have plagued them for a long time, especially, if the PDF files contain many images or photographs, it would be huge, these documents will be difficult to share with your friends, or send to your customers via e-mail. Furthermore, there are many e-books in PDF format on the Internet, if you want to read or browse these files on your mobile phones or other handheld devices, you need a tool to reduce these PDF file size, otherwise these files will take up a lot of valuable disk space. That is why you need this tool. At the best, this software is a freeware, completely free for non-commercial and personal use.